Student Life
Experience design at BAU! Inspiration, creation and research come together in our campus, located in the midst of Poblenou - Barcelona's great innovation district.
Welcome to BAU
Discover a large international community of heterogeneous and creative people where you can share, learn and experiment.
In BAU you will find a place to develop projects and build new and stimulating relationships with people with whom you will discover affinities, share concerns, passions and, why not, different points of view; all this in an environment of constant teaching innovation, with consolidated programs and dedicated, highly qualified teaching staff.
BAU is located in Poblenou, the technological and design hub of Barcelona (the 22@ district), in a university campus of more than 8.500 m2 formed of two industrial buildings in Pujades street, completely renovated and equipped for design training.
The BAU campus welcomes students to an international and multidisciplinary community while generating an academic and multicultural immersion for a professional future full of personal and professional opportunities and relations; all this in Barcelona, a city that becomes our testing ground - a laboratory from which we observe the world; experimenting and testing creative design solutions for the present and the future.
The campus
We provide the tools and the method. You - the talent
In BAU we are constantly expanding and improving our infrastructures to adapt them to the latest needs generated by design and the quest to improve society and social transformation.
The campus is equipped with all kinds of technical and audiovisual facilities and devices for the production and prototyping of creative and design solutions. It is located in the unique environment of Poblenou, a district in ongoing transformation, easily accessible by public transport and bicycle lanes, and surrounded by residences and leisure activities.
---
Classrooms and workshops
BAU offers open and supervised workshops where students can develop their projects. Work spaces, designed so that students can experiment in complete freedom, include the photography and video set, the audiovisual laboratory, computer classrooms with Mac environment, workshops for digital manufacturing, artistic expression, modelling, silk screen printing, pattern making, typography etc.
---
Library
With more than 6.000 catalogued titles, the BAU library is an essential resource to complete teaching and enrich research. As a source of knowledge and inspiration, the library offers a catalogue that is regularly expanded and updated with books, journals and publications of all kinds, from local findings to world reference headlines, with a significant amount of physical volumes not found on the web. The library is also a bright and welcoming space that encourages autonomous learning, investigation and creation.
---
Cafeteria
Life at BAU is much more than just studies, projects and hand-ins. The cafeteria/bar which offers catering and self-service in the centre of the main building is the meeting point for discussion and the convergence of the views and creative problems of all the people who coexist at BAU - students, teachers, researchers and employees.
Apart from the bar, the centre has meeting spaces, both inside and outside, where students can share quality time, disconnect, read or rest.
---
Ecological and sustainable
In BAU we promote a healthy culture and responsible consumption. In order to protect the environment and contribute to a greener society, we foster an academic and life philosophy focused on social transformation and common well-being.
This commitment is reflected in our facilities, with an energy heating system connected to the Barcelona waste network and the use of sustainable means of mobility.
Studying in BAU
In BAU students are always at the centre of all actions and projects. Together, we live, learn and build a vibrant and effervescent space full of artistic, cultural and personal stimulus.
Students
BAU offers an ideal environment to develop creativity and train design professionals for full personal and professional skills. At the same time, we encourage creative dynamics where students explore materials, ideas, shapes, colours and textures without limits, in open spaces equipped with all the necessary tools. We believe in daring and organic design, and we do not mind getting dirty, nor the manipulation or cluttering of materials and tools. We understand chaos as a source of inspiration and discrepancy as an opportunity for reflection.
---
Teaching staff
Professors at BAU share with students a passion for the world of design and a social and cultural sensitivity when devising and developing academic projects. The vast majority are consolidated professionals, with strong and active links to the professional world and are in direct contact with the latest developments in the sector.
---
Projects
We give as much importance to the academic projects as we do to the process each designer experiences from the genesis of an idea until its final presentation. We live this process intensely and encourage permanent self-criticism and the exchange of opinions between colleagues and professors.
Each project culminates in a presentation in front of the whole class team, where the students have to defend their work and justify the steps they have followed to reach the final result. Presentations are a source of nervousness and tension, but also of satisfaction and fulfilment in the unique experience of presenting a finished project after weeks and months of work.
---
Connected to the present
BAU has always been a space closely linked to society. It is a porous space where current events are filtered daily and where world changes determine academic action, and vice versa. We encourage students to sharpen their senses and to nourish their critical spirit on a daily basis in order not to lose the link to the present.
The coronavirus outbreak and the transformation of our lives caused by the health measures, as well as the physical and emotional impact of the crisis, have also triggered a new wave of academic design projects that are closer than ever to reality, with a strong collective awareness and the conviction that students' creative proposals can contribute to solving various challenges of a social nature.
Barcelona, the capital of design
The BAU community extends far beyond the campus and Poblenou district to the entire city of Barcelona and its surroundings. From the beach, four streets away from BAU, to the centrally located Born district, within a 15-minute walking distance.
Students are fully immersed in the creative dynamics of Barcelona, where intellectual curiosity and social activism interact creatively with art, design and innovation.
Come and discover what it's like to live in one of the most creative and cosmopolitan cities in the world!
From Poblenou to the world
In recent years, Poblenou has undergone an extraordinary integral transformation. Without losing its old industrial and working-class character, the neighbourhood has been able to welcome and concentrate a large part of the city's creative and technological sectors.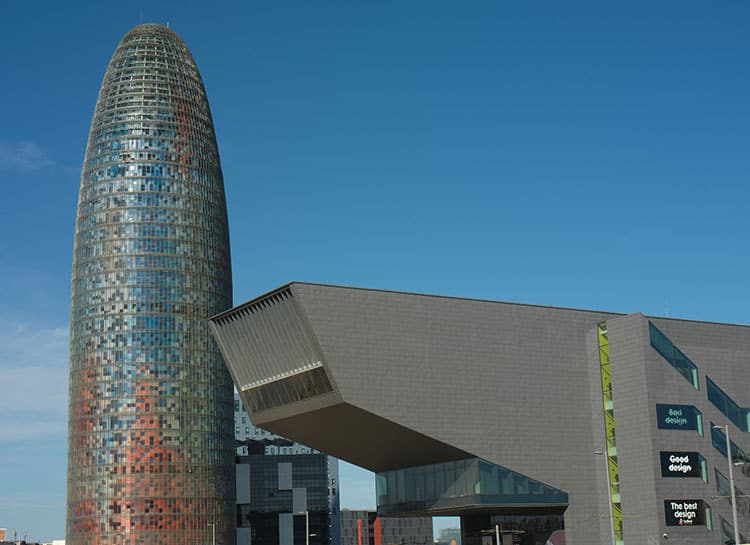 At present Poblenou is a hub of contemporary creation focused on the design industry, ICT, artistic experimentation and university research, as well as being one of Barcelona's districts best connected to the latest international trends in the world of art, design, fashion and technology. In short, the ideal environment to live the design experience to the fullest!
And if, at any time, you need a change of scenery or to renew your sources of inspiration, the surroundings of Rambla del Poblenou (an irresistible mix of tradition and modernity) and the sea will open up new horizons to potentially most unexpected ideas.
Come and meet us!
If you want to learn more about BAU, have any questions/doubts or if you wish to visit the centre, you can make an appointment (online or in-person) and we will attend you personally.