Alumni
The BAU Alumni platform is the meeting point for BAU's graduate student community, with a common goal: to contribute to their professional growth by providing a wide range of services.
Presentation
BAU's doors are always open to everyone, and especially to former students who wish to maintain their connection with the institution.
As BAU Alumni you can meet and interact with professionals and companies from the sector, fellow classmates and the whole BAU community.
If you have completed your studies at BAU – BA in Design, Higher Diploma in Design or Graduate in Design, a Master's, a Postgraduate or the Diploma in Graphic Design (Evening), then you already are an Alumni and, therefore, you belong to a creative and international community of design professionals across different fields of study. Being an Alumni has many advantages and provides you with access to facilities and opportunities for your professional future.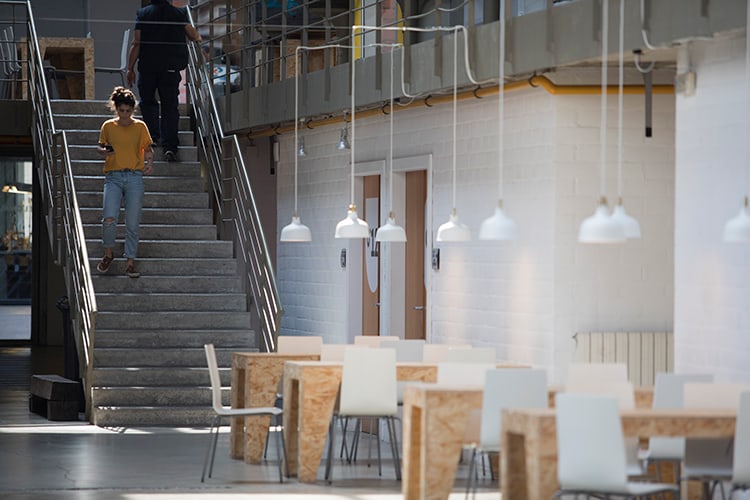 BAU Platforms
BAU offers you its communication channels (BAU News, social networks and newsletter) as a platform where you can promote and share your most relevant personal and professional projects. Several generations of alumni have already taken advantage of these platforms to publicise their work.
Write to alumni@bau.cat and tell us about your projects!
Job Placement
BAU also offers a Job Placement Service where you will find job offers and internships in a wide range of companies and institutions linked to the world of design. If you are a freelancer or have your own studio, here you will also find contacts of design professionals to help you enrich your projects.
You can access BAU's Job Placement Service through the following link: https://inserciolaboral.baued.es/
To access the Job Placement Service, please send an e-mail to insercio.laboral@bau.cat to request your password.
Professional networking
BAU organises and participates in events/sessions of professional guidance and networking between companies and graduate students, which are also open to alumni. These events are attended by companies from the public and private sector, as well as by incubators for the development of new projects and by co-working spaces.
In addition, BAU organises the annual BAU Talent Networking, an event focused on the recruitment of creative talent and the search for professional opportunities.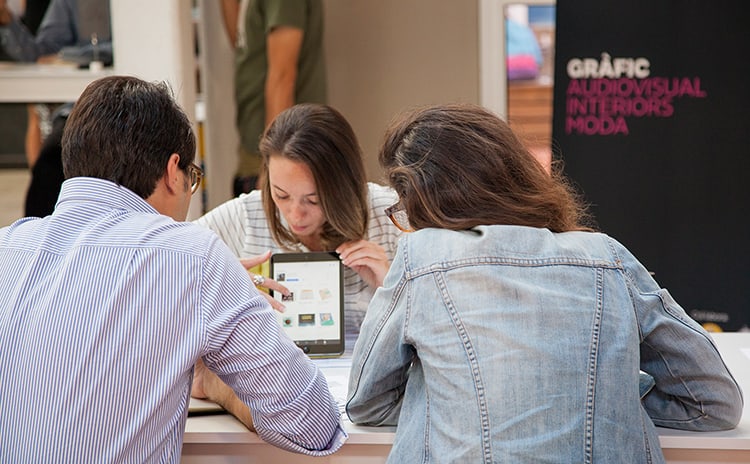 Library
Being an Alumni also gives you access to BAU's Library, where you can consult bibliographic and electronic resources as well as the entire collection of available documents. You will be able to borrow these materials and get advice on the document and graphic collection.
The library contains books, journals, articles, theses and many other documents, both in digital and paper format.
It is a quiet and welcoming space, with wifi connection, ideal for working, reading, writing and researching.
El Cub
El Cub is a place where you can buy the work material you need and use the small and large format printing service at an affordable price.
There is also a pen plotter service for patterns.
You can consult all the materials we have in our catalogue.
Other services
At BAU we are constantly on the move, and being part of the BAU Alumni community will allow you to keep up to date with our latest developments and the new services we offer, such as special discounts from suppliers, tickets for events, competitions and festivals, and a communication platform to share your professional successes with a large network of contacts.
Special discounts
You can also benefit from special discounts to continue your professional training with us in the following studies:
Additional benefits
Join an international community of design professionals
Discover the latest trends in design
Meetings with colleagues from your graduating class
Invitations and discounts for design-related events
BAU community news
News regarding BAU's training offer
Training and guidance on updating your CV and portfolio
Advice on international offers and companies
"Recycling" courses
BAU Alumni Talks and round tables
BAU Alumni digital card
If you miss any service or have any ideas, you can leave us your comments or suggestions in the following suggestion box.
And if you have any questions, send an email to alumni@bau.cat and we will answer your query as soon as possible.
We hope to see you again soon!